Family Yoga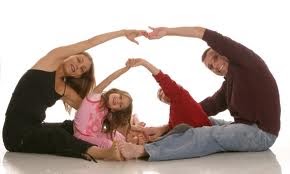 Yoga is fun for the whole family! Bring the whole family together through this fun, bonding and beneficial activity.
Practicing yoga as a family has been shown to reduce stress, reduce anxiety, and lead to healthier lives because of it. It takes just a little planning to create the opportunity for your family to come together and practice the techniques of relaxation, flexibility, coordination, and strength that yoga encompasses.
Here are some of the benefits of Family Yoga:
Increased Connection—Through yoga games and poses families connect and bond in a way that is very different from when pursuing other family activities because it's non-competitive. Each family member connects with their own breath and body while feeling the powerful connection of the group breath and the support you get in group poses.
Finding Joy—Practicing yoga together means having fun together. Yoga games and partner poses encourage correct alignment but don't focus on it. The focus is in finding the fun and joy in moving one's body and sharing with your loved ones in a playful way. Partner poses, in particular, tend to lead to many laughs as bodies of different sizes try to join together in one pose.
Finding Peace—Although Family Yoga is active and fluid to meet the needs of the children in the class, here are quiet moments where you connect with your breath, calm your heart and find the peace that's inside you.
Learning Tools For Life—Family yoga teaches breathing techniques that both kids and parents can bring into their lives to head off anxiety, hot tempers or wandering minds. Poses are taught that will release energy, find your center and help kids ready themselves for bed and rest.
Family Yoga classes are offered as Workshops. The next one is coming soon – contact Anna if you're interested in being notified of the next workshop.